Skip to Content
Featured Project: The History of St. Luke's Church in Park Ridge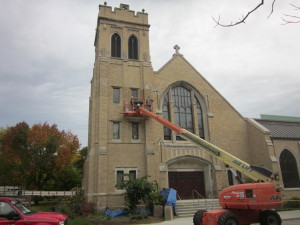 Brick masonry restoration works like a facelift for old, worn buildings. It can completely rejuvenate the look and feel of a historic structure, reviving its original beauty. One example is St. Luke's Church. An important part of the Park Ridge community for many years, it's had its exterior restored to its original glory.
A Historical Jewel
St. Luke's dates back to 1928 when the sanctuary and education wings were originally built. Designed by Elisabeth A. Martini, a talented architect who struggled to gain the recognition she deserved in an era when the field was dominated by men, the building is styled after English Gothic architecture. The internal trusses are built from solid wood, and the inside stone walls are reminiscent of the stones in Solomon's Temple, as described in the Bible.
Over the years, renovations and additions took place as the congregation grew. The beautiful oak paneling behind the altar was acquired from a library in 1938. Striking murals were painted in the 1950s. A chancel renovation in 1995 brought in a new main altar and a new pipe organ. A white oak herringbone floor was installed, and a baptismal font was gifted to the church.
In 2010, architect Douglas E. Lasch designed a three-story addition to accommodate the growing congregation. Its style blends in with the original Gothic architecture of the church. An atrium space was also added, serving as a convenient gathering space. Accessibility elements including a ramp and an elevator were included.
About the Masonry Restoration Done by Soumar
The final renovations to the building came in 2013 when significant masonry work was done on St. Luke's Church for a successful historic restoration. Over time, bricks and stones deteriorate, sometimes making an older building unsafe or unsightly. The restoration work completed at St. Luke's enables the congregation and visitors to safely access the facility for many years to come.
The process involves assessing the extent of deterioration, as skilled masons determine the best remediation approach. Masonry restoration involves patching deteriorated mortar, replacing worn-down bricks, and matching stone colors. To see photos of the masonry process at St. Luke's Church, view the featured projects by Soumar Masonry Restoration, Inc.
Expert Masonry Repair and Restoration