Skip to Content
Commercial Masonry Services
Soumar Masonry Restoration, Inc., offers a variety of commercial masonry services, including construction and repair. We're family-owned and operated, proudly serving the entire Chicago metro area.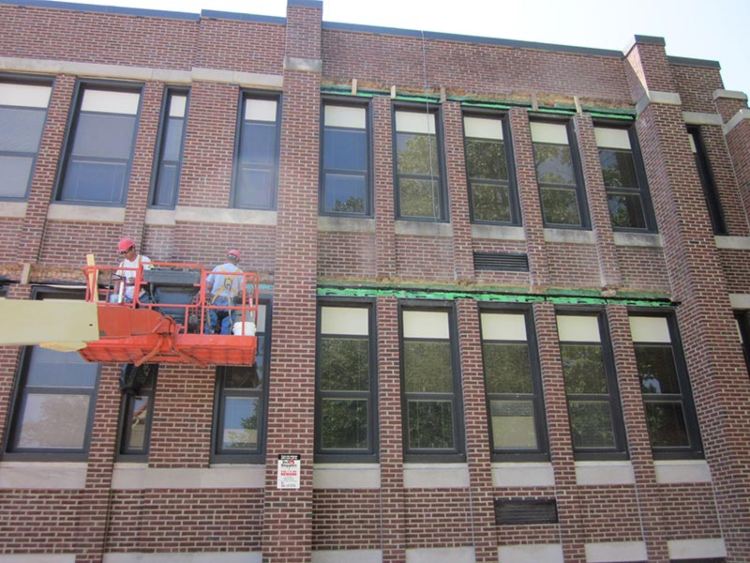 Our Commercial Masonry Services
We work directly with facility owners and contractors to repair and restore buildings of all types, including airports, universities, hotels, hospitals, churches, retail stores, and office buildings. Our work consists of structural rehab, cosmetic work, water testing, leak evaluations, natural stone repair, and stone element replacement.
How to Determine If You Need Masonry Repair
Damaged or missing bricks are the most notable signs that a building's masonry needs repair. Our masons will also check the mortar or grout-filled spaces between the bricks for signs of deterioration. To renew the eroded space, we use the repointing or tuckpointing method, which involves removing the old mortar or grout and replacing it with fresh mortar. Brickwork can also be compromised by locked-in moisture. One of the most visible signs of moisture retention is bubbling paint on the interior walls.
How Commercial Masonry Can Benefit Your Company
Along with addressing any underlying safety and durability issues, our commercial masonry services can also help improve the overall appearance of your building. This is especially important for businesses looking to gain foot traffic, as some customers may be turned away by a business with a subpar exterior. Making a good first impression can be a major key to success.
Five Reasons to Call Soumar Masonry Restoration, Inc. for Your Repair and Restoration Needs
Whether you need cosmetic improvements or a thorough inspection, our team can provide you with trusted commercial masonry services. Contact Soumar Masonry Restoration, Inc. today at 630-834-3400 or 800-737-8672.
Effective, Time-Tested Repair Methods
Our experienced masons are trained in traditional, modern, American, and European masonry techniques.
A Value That Cannot Be Matched
We provide you with a site manager to oversee your project, ensuring you receive personalized service at a good price.
A Successful Track Record
We have completed thousands of exterior maintenance and repair projects for commercial buildings throughout Chicagoland since our founding in 1938.
80+ Years of Experience
All of our craftsmen are skilled in masonry restoration for both historical and contemporary buildings.
No Obligation, Free Estimate
Please fill out our online form to request a free estimate. We look forward to hearing from you.
Expert Masonry Repair and Restoration