Skip to Content
We Supply Concrete Wall Blocks in Chicago, IL
Quality, Durable Concrete Wall Blocks in Chicago, IL
No matter what type of building project or construction project you're working on, you're going to need quality concrete building blocks. Concrete and masonry are the foundations of any solid, durable construction, and you need a good supplier of concrete wall blocks that you can depend on. At Soumar Masonry Restoration, Inc., we're an industry leader in concrete and masonry repair and restoration. We source the highest quality concrete wall blocks in Chicago, IL and our clients trust us to always have what they need. We specialize in commercial and industrial concrete and masonry work, and we also have the certifications and experience required for historical restorations and repairs. You can trust our experienced, hard-working concrete masonry team to do what it takes to complete your project on time with professionalism, safety, and unparalleled results.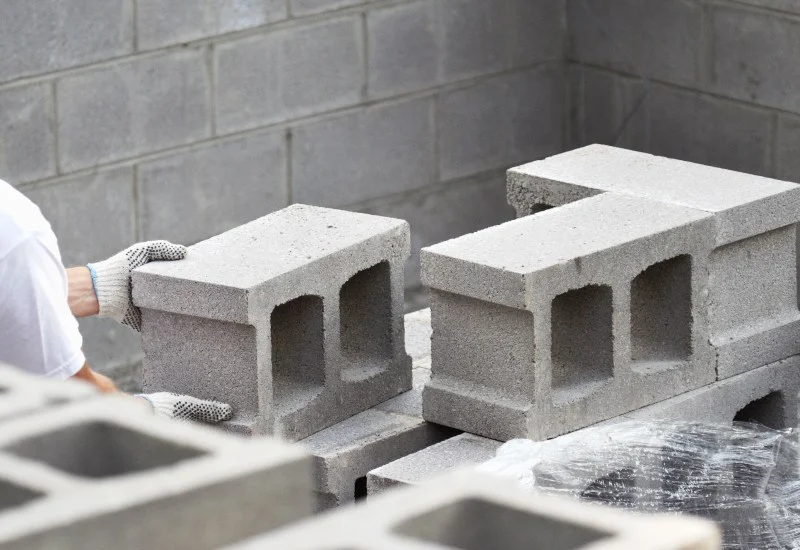 Understand the Purpose of Concrete Building Blocks
Concrete building blocks are one of the most durable, versatile foundations of any type of architecture. The reason they have become so popular in building and renovating homes and properties of all types is that they are cost-efficient, incombustible, versatile, water-resistant, and offer many benefits to builders and contractors. Concrete blocks are created from a mixture of cement, sand, and gravel. Concrete building blocks can be used to form walls, floors, and foundations. You can also use concrete blocks as a foundation for structures like houses, commercial buildings, and more.
Explore the Benefits of Concrete Wall Blocks
The reason that contractors and architects use concrete building blocks so often is that the benefits of concrete wall blocks make them one of the best building materials available. These are the main characteristics of concrete building blocks that make them an excellent choice:
Incombustible
Cost-efficient
Versatile
Uniform
Insulated
Water-resistant
Eco-friendly
Using Concrete in Masonry Construction
Because concrete blocks are such a versatile construction material, they are often used in masonry construction. Masonry construction is building and fabricating structures from clay, brick, or concrete blocks. Concrete wall blocks have a long history in masonry and can be used to build homes, commercial buildings, walls, garages, patios, carports, foundations, garden beds, retaining walls, utility sheds, and more. Concrete masonry is rising in popularity lately because it is the most economical, durable solution for a wide variety of types of construction. It also sets itself apart because of its energy efficiency, low maintenance needs, and sustainability. It has become particularly useful in green construction.
Review the Types of Concrete Wall Blocks
Two primary types of concrete building blocks are used in construction: hollow and solid. Both can be used for walls but offer advantages for many other types of construction as well. Let's take a look at each type of concrete wall block:
Hollow – Hollow concrete blocks have holes in them that take up more than one-fourth of the size of the block. Sometimes the holes even take up more than half of the size of the block. Hollow concrete blocks come in three grades: Grade A, with a minimum density of 1,500 kg/m3; Grade B, with a density of less than 1,500 kg/m3; and Grade C, with a density greater than 1,000 kg/m3. Grades A and B can be used as load-building concrete wall blocks.
Solid – Solid concrete blocks look like gray bricks. They can be used as concrete wall blocks and concrete retaining wall blocks for gardens, planters, and landscaping. The main types of solid concrete blocks are fly ash, aerated autoclaved, paving, cellular lightweight, and expanded clay aggregate.
Complete Projects With Concrete Building Blocks
Even homeowners have started using concrete building blocks to complete DIY projects around their homes. Hollow blocks and solid blocks can be used to build outdoor fire pits and barbecue pits, patios, benches, planters, garden beds, and plant stands. You can also use concrete building blocks for more sophisticated at-home projects, such as patio and garden walls, outdoor sheds, carports, garages, saunas, and raised gardening beds. Using concrete retaining wall blocks in your landscaping can prevent erosion, soil loss, shifting soil, and water damage.
Restore Walls with Concrete Wall Blocks
You can also use concrete wall blocks to restore walls yourself. If you have one or more cracked cinder blocks or solid blocks, you can remove the damaged bricks and replace them. You first need to carefully clean the wall to remove any dust, dirt, and debris. Then, you'll need to use a plugging chisel and sled to chip apart the damaged concrete building block. You should remove each chunk as it becomes free. Brush away dust as you go and wear safety goggles to prevent injury. Once the block is fully removed, apply mortar around the edges of the cavity using a trowel. You should add at least one inch of mortar around the top, bottom, and sides. Then place the new block into place and scrape away the excess mortar. The mortar will need to dry for 12 to 24 hours. It can then be cleaned and painted.
Advantages of Using Soumar Masonry Restoration, Inc.
You can count on our team of experienced masonry contractors to do the job correctly the first time. We have decades of experience in concrete and masonry work and have long been a leader in the industry. Our company was first established in 1938, and our multi-generational concrete and masonry contractors have strong ties to Chicago and are firmly committed to beautifying the city. We specialize in high-quality, beautiful repair, restoration, and maintenance of buildings of all types, sizes, and ages. We also offer historical renovations and repairs.
Call for Quality Concrete & Masonry Units in Chicago, IL
If you're interested in quality, dependable concrete and masonry units in Chicago, IL, contact us at Soumar Masonry Restoration, Inc. Our dependable contractors will go through your project in detail, determine what you need, and offer an estimate. No matter how big or small your concrete and masonry job is, we've got you covered! Just call us today to discuss your project or contact us online to schedule a consultation for an estimate.
Expert Masonry Repair and Restoration