Skip to Content
Structural Foundation Repair in Chicago, IL
Quality Facade Structural Foundation Repair in Chicago, IL
If you're renovating your home, trying to sell it, or just have a structural issue that requires repair, you need a professional contractor. Attempting structural repair or facade repair on your own might affect the property's safety and value or cause even more problems. At Soumar Masonry Restoration, Inc., our team of experienced masonry contractors has been providing facade repair and structural foundation repair in Chicago, IL for decades. We were first established in 1938 and built a humble business in facade restoration and facade repair, which has grown and expanded over the years. Our loyal clients know that they can turn to us for even the most complicated structural repairs and facade renovations. Throughout the years, we have developed a distinct identity and a world-class reputation.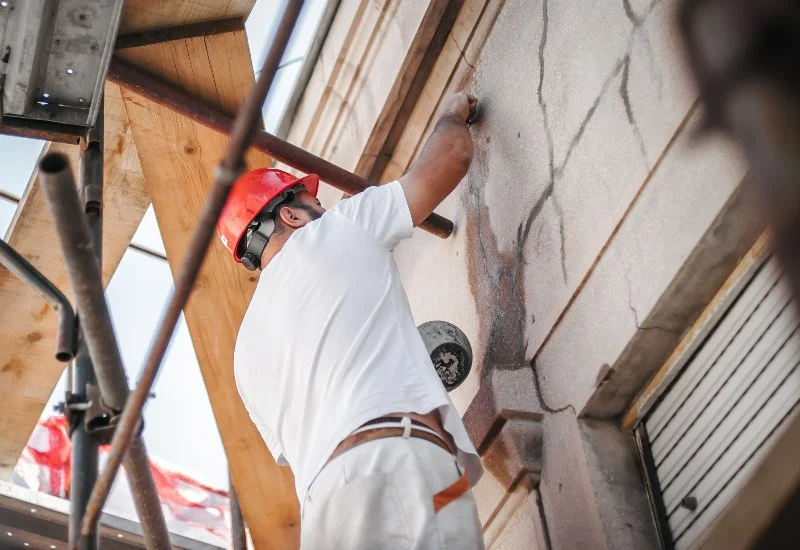 Learn About the Importance of a Façade
While most people have heard the term "facade" before, they might not fully understand what it is, or why it's important to the structural integrity of the building. A facade is simply the exterior or the face of the building. Each building's facade contributes to not only its overall appearance and design, but also its light flow, acoustics, and energy efficiency. It creates a necessary barrier between the inside and outside of the building, while also playing a crucial stylistic role. When a building's facade is damaged, it can affect the building's ability to withstand wind, rain, and extreme temperatures. It even plays a role in preventing corrosion of the building's features. Depending on how a building's facade is designed and constructed, it can offer shade, ventilation, and sound absorption. The facade can also improve the building's energy efficiency, as it minimizes solar gain and air leaks.
Understand Why You Need Facade Repairs
Over time, no matter how well a building's facade is constructed, it will need facade repairs or restoration. The combination of high winds, extreme temperatures, the building settling, and natural events like hurricanes or tornadoes can affect the structural integrity of the facade. When a facade starts to deteriorate, it doesn't offer as much structural support to the building as is needed. Keeping up with routine, minor facade repairs can halt this deterioration and prevent bigger, costlier problems. Hiring our team for professional facade repairs allows us to inspect your building for early warning signs of problems. We can also identify the key facade repair priorities, so we know exactly where to start without risking further structural damage or facade deterioration. Our facade structural repairs will protect your building's interior from damage, as well. The building's facade protects the interior from the elements, weather damage, air loss, UV damage, and sun glare. Prevent further problems and costly facade restoration by scheduling timely facade repairs.
Review Our Process for Facade Repairs & Facade Restoration
 When you contact us to discuss structural repairs, facade repairs, or facade restoration, we'll first schedule an initial consultation. After discussing some details of your needs, goals, and budget, we'll outline our working process for structural and foundation repair:
Inspect the Façade – We'll do an onsite assessment during which we thoroughly inspect your building's facade. We will take photos and measurements and may ask to look at property records and records of repairs done by other contractors. We'll explain exactly what we're doing throughout the entire process.
Identify the Damage – During our assessment and inspection, we will identify and mark any areas of damage. We'll also prioritize issues with the facade, so you know which specific facade repairs are most needed. We'll give you a formal report of our findings so you can review them.
Plan – If you decide to proceed with facade structural repairs from our company, we'll draw up a detailed plan. The plan will include a timeline for the completion of facade repairs, and what to expect through every step of the process. We'll also discuss the cost of facade repairs.
Implement the Fixes – If you accept our plan and enter a contract with our company, we'll schedule the first date to begin facade repairs. We do everything we can to stick to our timeline for repairs, and we'll let you know if there are any changes to the schedule. Once we've completed repairs, we'll do a walkthrough with you to discuss the repairs as well as future facade maintenance.
How Our Renovations Protect Chicago's Architectural Heritage
Because we have such a lengthy history in Chicago, we have deep ties to the community. We also have a deep understanding of the rich architectural history and heritage throughout the city. That's why our contractors have the experience, education, and certifications necessary to complete historical restoration and repairs. Our historically accurate and quality facade renovations and facade restorations can preserve the architectural continuity and condition of historical buildings. We have experience working on projects on city-designated historic monuments and buildings, as well as ones that just have a storied history without formal historic status. We specialize in historically accurate facade repairs and facade restorations, as well as concrete restoration, brick masonry facelifts, and other services and maintenance.
Benefits of Choosing Soumar Masonry Restoration, Inc.
As a masonry company that has been operating in Chicago since 1938, we have strong ties to Chicago and its rich, vibrant community. We value Chicago's historic architecture and want to protect and preserve it at all costs. We aren't just masonry contractors – we're also Chicago residents who have memories of each street, neighborhood, and building in our community. When you contract with us for a facade repair or restoration, you can rest easy knowing you're getting a team of highly experienced and committed contractors who genuinely care about the work they do.
Schedule a Consultation for Facade Repairs in Chicago, IL
If you're interested in learning more about the benefits of professional facade repairs in Chicago, IL call us today at Soumar Masonry Restoration, Inc. We have the skills, experience, and dedication needed to restore and repair any type of structural damage, and we specialize in facade renovations and facade restorations. Whether you need residential or historic facade repairs, we're here to help. Just call us today to discuss your project or contact us online to schedule a consultation for an estimate.
Expert Masonry Repair and Restoration