Skip to Content
Expert Tuckpointing Services in Chicago, IL
Professional Tuckpointing Services Throughout Chicago
Residential, Commercial, & Historic Tuckpointing Properties
Changing weather conditions can significantly impact a building's masonry. Exposure to moisture, wind, and salt is known to wear away the mortar between bricks or stones over time, causing unsightly discoloration and cracking that can undermine the structural integrity of a building. Since 1983, Soumar Masonry Restoration, Inc. has provided tuckpointing services to repair mortar damage.
How Do You Spot a Problem?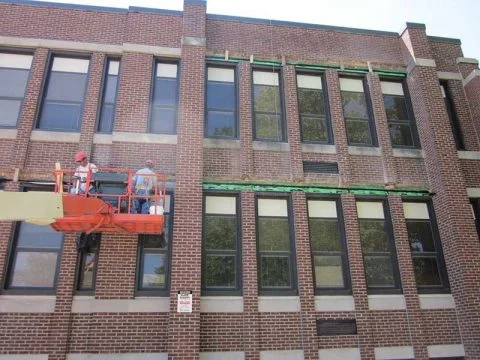 Over the years, mason buildings come under harsh weather conditions. Chicago buildings endure years of lake effect weather, leading to them needing a close examination and repair. The first aspect of tuckpointing is noticing an issue. Look out for the following signs that you may require our tuckpointing services:
Cracks
Holes
Crumbling pieces
Dust in the masonry
Dust may be the most difficult problem to notice. The easiest way to test the integrity of your mortal is to drag a key across an old mortar joint. If you notice scratches and powdery dust falling from the joint, it may be time to contact Soumar Masonry. Once we're on your property, we'll be able to use our years of experience and expertise to fully assess your building. From there, we can create a solution that works for you, your building style, and budget.
Benefits of Tuckpointing
When mortar deteriorates, so does its ability to repel moisture. As moisture infiltrates masonry, it begins to wear down the building's stones and bricks, causing serious damage. Moisture leaks can cause mold and mildew to accumulate and building materials to rot, which often leads to the loosening and even loss of stones and bricks. Additional moisture will force masonry to expand and contract more than it normally would as temperatures fluctuate. As this occurs, masonry will be damaged.
Tuckpointing Repair
We use mortal to fill in areas that have been damaged or deteriorated by the harsh weather conditions that Chicago regularly experiences. As the weather changes with the seasons, this can damage a building's structural integrity. We carefully remove the damaged mortar while leaving the existing brick intact. Our specialists then tuck in the new mortal to reinforce the building and protect it from future damages. The entire process requires pinpoint accuracy, years of experience, and careful attention to detail. We help you limit potential further damages and extend the life of your brick structure for years.
Purpose of Tuckpointing
The mortar joints of a building's masonry contribute to its overall strength. When mortar wears away, the structure can be left in a weakened condition. The tuckpointing process involves the removal of old mortar by either grinding or raking it out. After removal, the contractor will fill the joints with fresh mortar. Upon completion, the joints will regain their strength.
Ignoring masonry issues will cause them to worsen over time. Tuckpointing at the onset of deterioration stops its progress, which prevents additional damage. If the mortar is allowed to weaken for an extended period, it can compromise the structure of a residential, commercial, or historic building and may even cause the building to collapse. Preserve the integrity of your structure by monitoring its masonry and acting swiftly once you detect any issues.
Contact Soumar Masonry Today
If you believe your masonry has been damaged, Soumar Masonry Restoration, Inc. can help. We will send a professional mason to your property to assess your tuckpointing needs and provide you with an expert solution. Masonry issues do not repair themselves. It's always a better idea financially and practically to perform tuckpointing maintenance services now than pay for expensive emergency repairs or reconstruction down the line. Help preserve your building's masonry integrity today by giving us a call. For more information, request an estimate today.
Expert Masonry Repair and Restoration