Skip to Content
Reliable Brick Repair in Chicago, IL
Soumar Masonry has over 75 years of experience providing brick replacements in Chicago, IL. We've earned our customers' trust for decades, building an outstanding reputation in the process. If you notice signs of brick decay, we're here to inspect your brickwork and determine the actual damage. Unfortunately, some damage is hidden from view, and you may need routine inspection and maintenance. If so, we'll provide the most trusted professionals in the area for your peace of mind. Contact us today for functional, more appealing brickwork.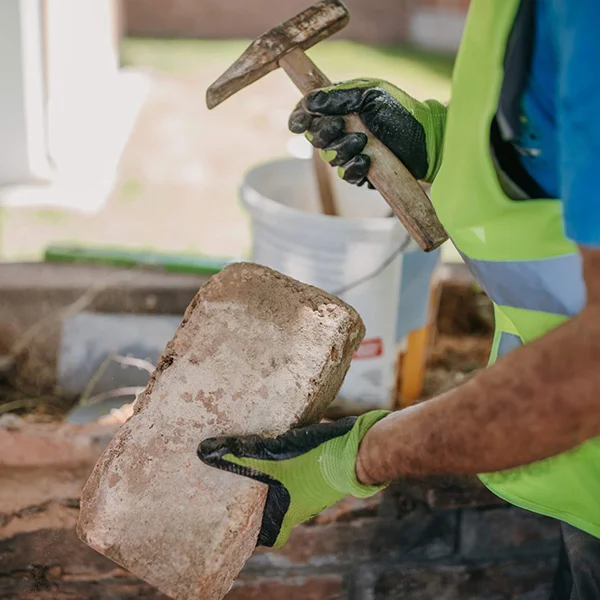 What Is Brick Masonry Repair?
Brick damage and deterioration are inevitable. Your brick and mortar are made from natural materials that will decay as time passes. Sometimes, brick and mortar suffer from sudden damages that need to be repaired immediately.
Hopefully, your bricks require only a minor repair. However, you may need to replace your brickwork entirely if we cannot correct the damage.
Common Reasons for Brick Repair
Each brick-and-mortar job is different. Many factors can affect your brick work's structure, appearance, and integrity. Depending on your unique case, you'll require a specific type of repair. We highly recommend scheduling a repair immediately after discovering signs of damage. Doing so will save you time, money, and headache down the road.
Cracks and Breaking
Cracked brick and mortar is a natural occurrence that is inevitable during a brick's lifetime. However, cracked and broken sections will only get worse over time. If you hesitate to get your bricks repaired, you'll spend more time and money getting them fixed in the future.
Minor cracking is usually repaired relatively easily. Major cracks require more time and effort. Small cracks become big cracks if left unaddressed.
Contact us immediately if you notice cracking or damaged areas in your brick and mortar. The sooner you request a service, the better off you'll be.
Out of Place Bricks
A displaced brick means that one, some, or many of your bricks are out of place.
Most displacement results from decaying mortar. Your mortar won't be able to keep your bricks in place when they deteriorate. Take the situation seriously if your bricks are out of place or misaligned. Your property may be facing severe structural harm.
There are two types of displacement. Both require different types of repair:
Inward: Inward displacement requires internal structural repairs, usually by replacing essential parts or reinforcing the brick.
Outward: Outward displacement needs a complete rebuild for the areas affected. Paralleled ties and support systems are added to your brickwork.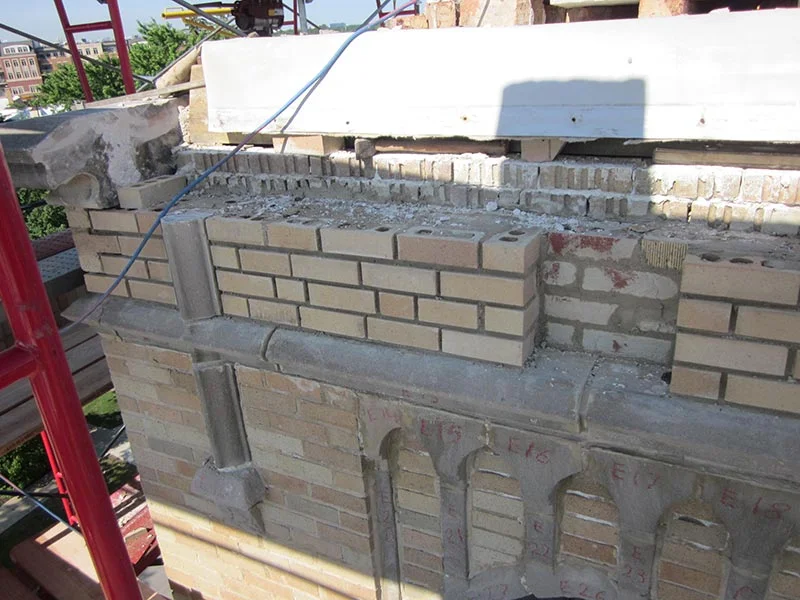 Spalls
Spalls are dusty pieces of brick that scrape off over time. Though spalls may seem like a natural event that all bricks face eventually, you should not underestimate the harm they cause.
Spalls commonly result from temperature highs and lows. Freezing and thawing add stress and water absorption. Spalling happens regularly due to fluctuating seasonal temperatures. Our frigid winter climate will eventually lead to spalls in your brickwork.
Requesting an inspection or repair is necessary to put an end to spalls and restore your brick work's integrity.
Water Leakage
Damage resulting from moisture build-up is among the most severe damage your bricks sustain. Water leakage can cause irreparable damage to your bricks. Further, water could leak into your property, resulting in added cracks and structural decay.
The most common causes of leaking include rain, melting snow, and hail. Moisture from these elements will begin to erode your bricks and mortar if left unattended. Even worse, water damage can lead to mold growth, rotting wood, or deteriorating drywall.
Water leakage is difficult to identify, usually hidden from plain sight. That's why hiring a professional inspection is crucial to restoring your brick and mortar. A trained expert can catch minor damage before it becomes a severe issue.
Staining
Various forces cause discolored bricks. Water damage, dust, and mold are the most common culprits. Discoloration produces an unsightly stain, potentially altering your bricks' aesthetics forever.
Though staining doesn't lead to structural damage, it could affect your home's curb appeal and resale value.
You may need a minor rinsing or major power washing to remedy staining. In some cases, you may require scrubbing for complete cleaning.
Contact us today for brick cleaning services if you want a more attractive appearance for your brickwork.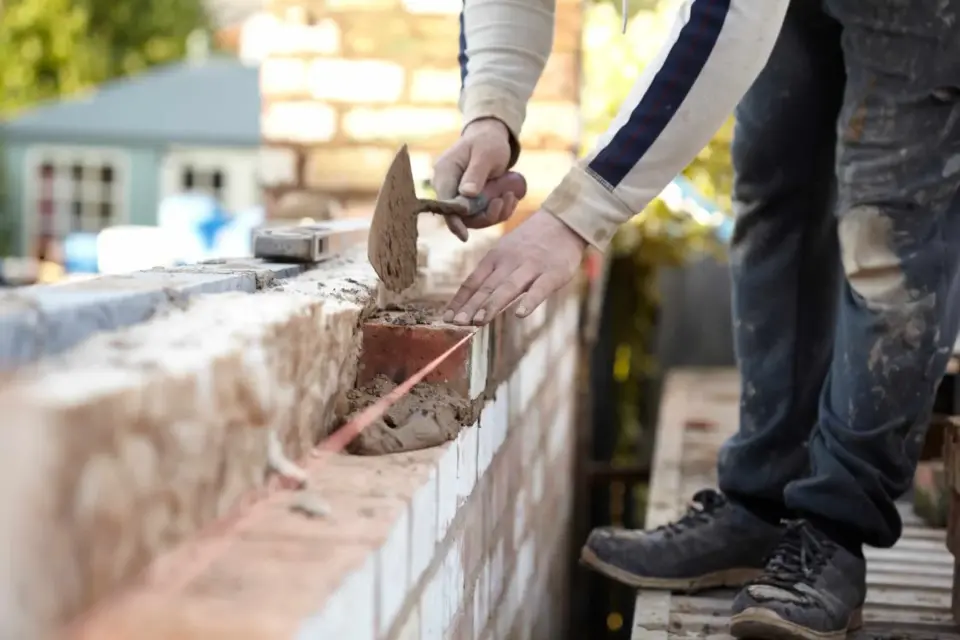 Why is Brick Replacement Important?
All brick and mortar deteriorate eventually. Some bricks gradually erode over decades. Other bricks sustain a sudden impact from weather and the elements.
Replacing broken or irreparable bricks is crucial to the health of your property. Broken bricks can lead to unappealing curb appeal or permanent structural decay.
Sometimes, you cannot avoid completely replacing your bricks. Luckily, we're here to help. Please feel free to schedule an inspection and replacement job at your earliest convenience.
Why Choose Soumar Masonry?
You want the most trusted professionals on the job for repairs and replacements. Our masonry has been family-owned and operated for over 75 years. We've built and maintained a decades-long reputation for top-tier service.
Your service will provide a site manager who oversees all aspects of your brick restoration. The site manager is the primary source of communication, addressing your questions and concerns from inspection to completion. Our professionals will guide your wall back to excellent health, revitalizing the quality of your property.
 We encourage you to do your research before contacting us. We're confident you'll be convinced we're the right choice for your masonry by the end of your search.
Contact Soumar Masonry Today
Soumar Masonry performs services for many areas around town. We can help if you need a brick repair and live within our service areas. A masonry professional will assess your brickwork through an inspection, determine a proper estimate and form an action plan to fulfill your project. You can trust us to make your brickwork as good as new.
Expert Masonry Repair and Restoration