Skip to Content
Trust Soumar Masonry for Historic Masonry Repair
Soumar Masonry offers residents and business owners the highest quality historic masonry repair services in Chicago, IL. Over time, the weather, contaminants, and periodic maintenance can cause deterioration of the exterior of historic buildings. Our skilled artisans offer unique masonry work to ensure historic structures maintain their look and feel. We can repair and install stone and rock, provide tuckpointing services to repair mortar damage, repair brick walls, and more. We've provided masonry repair services in Chicago since 1938, and we understand each historic property has unique needs. We customize your masonry repair services to meet each building's needs. Contact us to learn more today!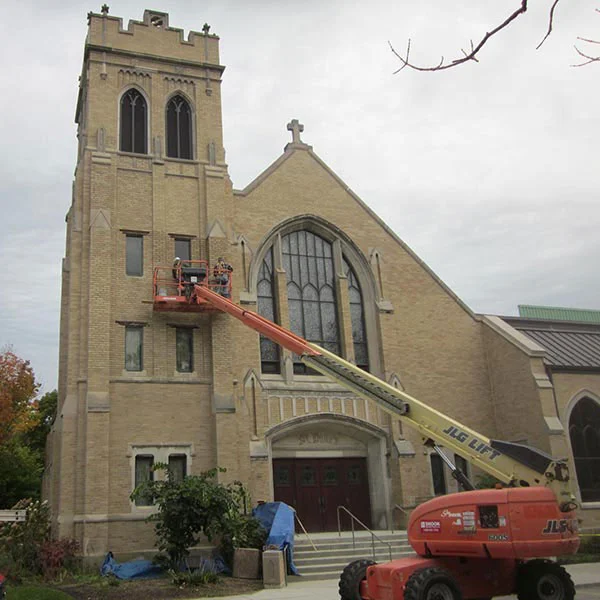 Soumar's Masonry Historic Repair Services
Our expert historic masonry repair team has the expertise to repair many types of masonry substrates, including brownstone, terra cotta, marble, granite, limestone, and more. Our repair services include but are not limited to:
Historic Building Cleaning
Tuckpointing
Stone Removal and Replacement
Stone Patching
Through-wall Flashing Repair
How to Determine If You Need Masonry Repair
Damaged or missing bricks are typically the first sign that a historic building needs repairs. We will examine the mortar to check for signs of deterioration. When we need to renew the space, we use tuckpointing to remove old mortar or grout and replace it with new mortar. We check for moisture retention by looking for signs of cracks, chips, or bubbling paint on the interior walls.
Stone Masonry Repair Process 
The meticulous stone masonry repair process requires diligent attention and specific techniques to maintain the integrity of the masonry, including:
Tuckpointing– We remove mortar by hand and apply fresh mortar in its place.
Mechanical Stitching – Our crew inserts stainless steel to stabilize cracks and prevent further expansion.
Patching or Dutchman Repair/Stone Replacement – We patch missing or broken stone areas with cement. We can also use the Dutchman repair process of using a piece of carved stone to repair the affected area. Stone replacement is used when patching and Dutchman repair isn't an option, specifically for severe breakage or deterioration.
Water Repellent Coating Application – We apply water-resistant coatings on stable areas and water-repellant coatings to damaged areas that cannot be thoroughly waterproofed.
Importance of Historic Masonry Repair
Masonry repair is priceless artwork that preserves a historic building as if it is frozen in time. Maintaining a building's structure and character is critical to its livelihood. The most important reasons to repair a historic building include:
Maintaining Original Qualities – In today's world, many people want to make all buildings modern, throwing out the old form of architecture. Proper historic repairs ensure a building maintains its original designs, textures, colors, and features. Repairs ensure historic buildings tell a story of the past and hold their unique characteristics true.
Bringing It Up to Code – Many older buildings aren't built up to codes and regulations. Historic masonry repairs ensure the buildings are safe while maintaining their historic characteristics.
Maintaining the Materials – Historic masonry repairs use the correct features, spaces, and methodology to pay tribute to its time. Historic buildings often serve as museums and pieces of culture that must look and feel like their original build with the right materials.
Why Choose Soumar Masonry?
For over 80 years, our expert team has repaired and restored historic buildings in the Chicago area. We're passionate about preserving historic buildings for future generations. We care about keeping history alive and want tourists and people visiting these buildings to respect their architecture and history. Soumar Masonry is a family-owned and operated business committed to our craftsmanship in masonry repairs and restoration.
Call Soumar Masonry Today!
The Soumar Masonry Restoration team is trained in traditional, American, and European masonry techniques. We understand the details that go into historic property repairs. Contact Soumar Masonry today for a free estimate!
Expert Masonry Repair and Restoration