Skip to Content
Experienced Historic Masonry Repair
Over time, the weather, contaminants, and infrequent maintenance can cause deterioration of the natural stone exterior of historic buildings. Through masonry repair, the skilled craftsmen at Soumar Masonry Restoration, Inc. can help facilitate the longevity of Chicago's storied architecture.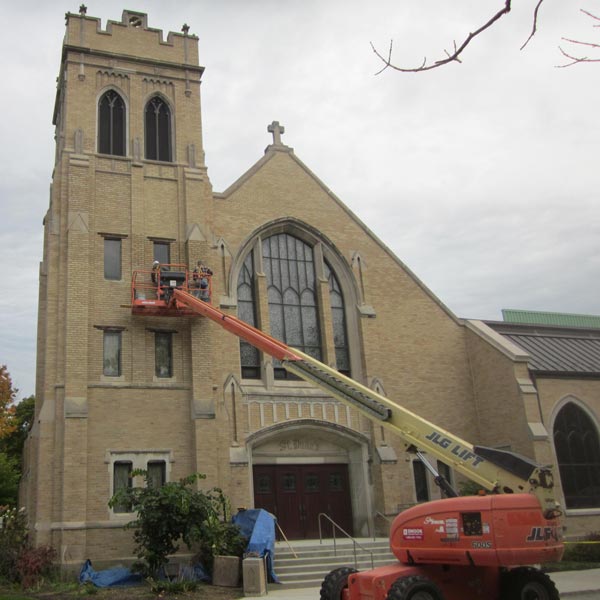 Stone Masonry Repair Process
The meticulous repair process requires diligent attention and specific techniques to maintain the integrity of the masonry:
Tuckpointing: Mortar is removed by hand from damaged joints and fresh mortar is applied in its place.
Mechanical stitching: Stainless steel pins are inserted to stabilize cracks and prevent further expansion.
Patching or Dutchman repair/stone replacement: Patching involves using cement to repair areas of missing or broken stone. A more extensive process, Dutchman repair is the process of using a piece of carved stone to fix the affected area. Stone replacement is used when patching and Dutchman repair isn't an option, specifically for severe breakage or deterioration.
Dampproofing/water repellent coating application: Water-resistant coatings are used on stable areas, and water-repellant coatings, which are more breathable, are applied to damaged areas that cannot be completely waterproofed.
Forms of Natural Stone Deterioration
In addition to cracking and weathering, natural stone may experience several types of deterioration. Two common forms, efflorescence and subflorescence, are caused by moisture and leave buildups of salt. In spalling, the outer faces of stones are forced off due to expanding moisture beneath the stone's surface. Often used interchangeably, delamination and exfoliation occur when stone splits and peels off in fine layers. Detachment is the result of a clean break in stone, and sugaring is used to describe the process by which stone disintegrates into sand-like granules when lightly rubbed.
If your Chicago-area building has experienced damage to its brick or natural stone exterior and is in need of historic masonry repair, contact Soumar Masonry Restoration, Inc. at 630-834-3400 or 800-737-8672 to request an estimate.
Expert Masonry Repair and Restoration