Skip to Content
Residential Chimney Repair in Chicago, IL
Soumar Masonry is your primary source for chimney repair in Chicago, IL. Our team has over 80 years of experience performing complete maintenance for residential, commercial, and historic properties. We can inspect and restore your industrial facility to working order. We're a family-owned masonry service with a decades-long reputation. We'll put you at ease with improved safety and efficiency. Contact us today to schedule a free estimate.
What is A Chimney Repair?
Your chimney serves as a vital asset to your property. If you use your chimney often, you likely appreciate its safety and comfort. Bricks and mortar work overtime for your property, providing a source of heat during the winter and venting out smoke for cleaner air. Your chimney also releases built-up gases that would otherwise invade your property. Further, the chimney's construction prevents critters and weather from causing a nuisance.
Unfortunately, the constant wear and tear will eventually take a toll on your chimney. Deteriorating brick and mortar is typical, with properties older than half a century. Many properties this old were built under codes and regulations long outdated.
Though gas and smoke are released through chimneys, they can still leave corrosive residue, causing internal decay. Weather and temperature cause your chimney's exterior to crack and crumble, and trapped rainwater will make the situation worse over time. You'll need to request a service once age and wear affect your chimney.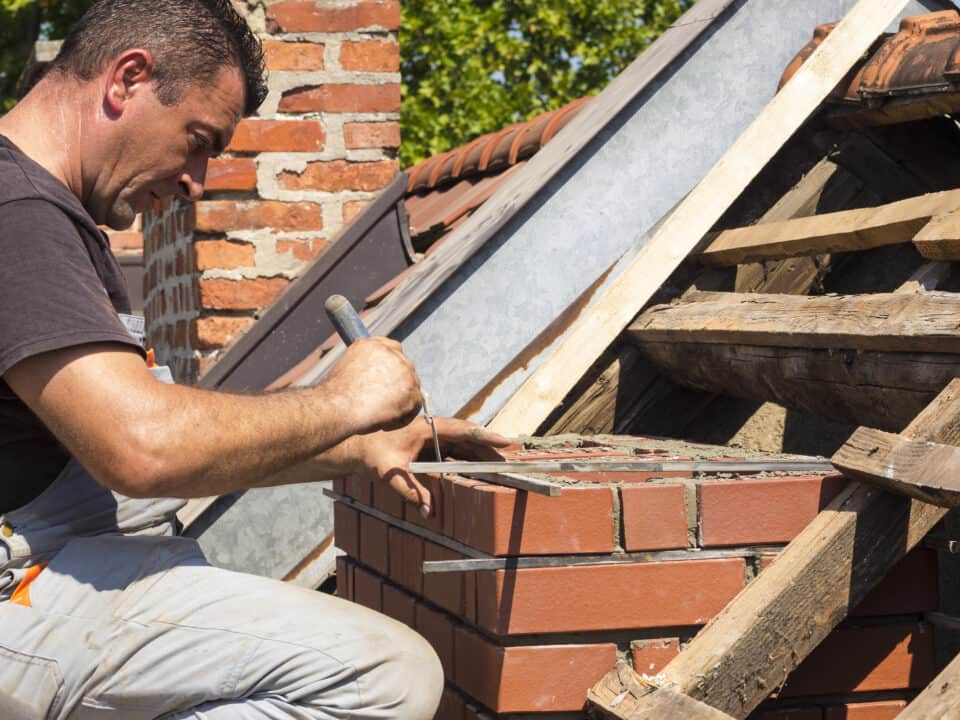 Replacing Your Bricks: This service entails clearing old mortar from your chimney. Then, we'll remove your broken bricks and replace them with brand-new bricks.
Tuckpointing or Realignment: Tuckpointing—or realignment—removes crumbling mortar and replaces it with new mortar. This process prevents water absorption.
Complete Rebuild: Sometimes, your chimney bricks or mortar are beyond repair. That's why we provide total replacements to give you a brand-new chimney.
Repairing the Crown: Your chimney's crown often sustains more damage than the other components. You may need frequent professional repairs.
The Four Types of Chimney Repair
Residential Chimney Repair: You may need a chimney repair, realignment, or replacement if your home is over half a century old. Our team will consult with you, inspect the issue and provide you with a free estimate. Our goal is to restore your masonry to a safe and functioning condition.
Commercial Chimney: Your chimney system plays a vital role in making customers and employees feel at home. Make sure your system is in prime condition by contacting us for your needs. We'll make repairs and ensure a proper shape so you can get back to conducting business.
Industrial Chimney: We can help if you want to achieve maximum efficiency at your plant, factory, or other industrial space. Detailed inspections, careful repairs, and brand-new rebuilds are why property managers come to us for their chimney system needs. Feel confident knowing that your facility runs safely and smoothly.
Historic Chimney Repair: Don't let your historical property's chimney system deteriorate because of age. Our masonry specialists have years of experience making attentive repairs, preserving the rich history of the building, and ensuring it functions properly. We'll treat your historical building with the utmost respect—like it's ours.
Why Should I Choose Soumar Masonry?
You are ensuring complete restorative work for your chimney by enlisting us for your service. We perform expert craftsmanship that compliments your property's original condition. Our goal is to give you a restoration that blends in—offering no sign that we did work in the first place.
We respect the integrity of our client's properties, and we'll treat yours the way we treat our own: with dignity, respect, and the utmost care.
Contact Soumar Masonry Today
Do you think your chimney needs repaired? If so, our specialist will visit your property and conduct a detailed inspection. We'll offer a free estimate and relay what's needed for a complete fix. Soumar Masonry Restoration is here to restore your property to its former glory. For more information, contact us today.
Expert Masonry Repair and Restoration